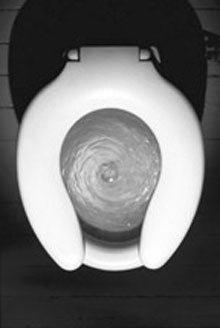 That Team That's Supported By Nascar Fans (7-18-6)
Vs
The Good Guys (15-11-4)
@ SBP, 7:00pm ET
TV: CBC
If my name isn't included as part of my game day prediction, will it count against my record? That's a question that hangs over my prediction for tonight's Hurricanes versus Senators game as part of the Ottawa Citizen's Prediction Panel. Here's it is…
Senators 4, Hurricanes 3

With a 1-11-4 record, it's difficult to ignore how poorly Carolina performs away from home. They're like socially awkward homeschooled kids who have left the nest for the first time and can't quite keep up with their peers. While Cam Ward did play last night in a 4-3 shootout loss to the Capitals, it works out in Ottawa's favour that the Canes had to play into extra-time and fly out immediately after the game. And even though the Senators have only scored 3 times in their past two games, the energy level and work ethic has surprisingly been there after their long and disappointing west coast road trip.
Lines at Practice:
Michalek-Spezza-Alfredsson
Foligno-Fisher-Kovalev
Ruutu-Kelly-Cheechoo
Regin-Winchester-Shannon.
The only change could be on defence. Allen Panzeri's reporting that Alexandre Picard will likely return from his injury tonight and if that's the case, Chris Campoli is the likely candidate to be made a healthy scratch.
Update from Ian Mendes' Twitter at 11:00am: Campoli is out as Picard draws back into the lineup. Elliott will start in nets.
Alfie Birthday Present
If you're going to the game tonight and want to give a belated birthday present to the Captain, go out and purchase a few pairs of blue dress socks and throw them onto the ice. You owe it to him.
"Right now, I need dress socks, especially blue ones. I'm running out of that, so that's high on my list," replied Alfredsson, who was celebrating his 37th birthday while the Senators prepared to play the Carolina Hurricanes on Saturday. ~ 680 News
Jason Spezza Coming To A Sens Chirp Rumour Near You
Here's some news about the future Steve Yzerman that should have sensationalist fans thinking that a trade request is in his future. According to the Ottawa Sun, Spezza has sold his Island Park mansion and is looking to relocate elsewhere…
…in Ottawa.
Kovalev Television Appearance
According to TSN, AK-27 will be appearing on OTR on Monday, December 14th. Even though he's entertaining Don Brennan at least once a game, there's still one place where Kovalev is not appearing — on scoresheets.
Fisher Carries The Torch
It was during a live experience where first I noticed that Mike Fisher seems to be more confident in holding onto the puck and using that extra second or half second to make smarter decisions with it. On Friday, Fisher even carried the Olympic torch 300 metres through Gatineau before turning it over to someone else. 300 metres!  He's like a new man.
Episode III of The 6th Sens Podcast ft. Jared Cowen and Michael Sharp
Have you checked out the latest podcast yet? No? Well, wait the hell are you waiting for?
If you want to access our material from Itunes, you can do that here.
If you don't use Itunes, you can access the material by following this link.
Ben From Sens Army Takes Hiatus
On behalf of Tim, we'd like to extend some well wishes to Ben from Sens Army who is taking a leave of absence from his website. When I first started doing some writing and had sent out some emails to other writers looking for some link exchanges, Ben was the first one who actually responded to me. Anyways, we just want to wish Ben our best from The 6th Sens and hopefully we'll see him back in the fold sooner rather than later.