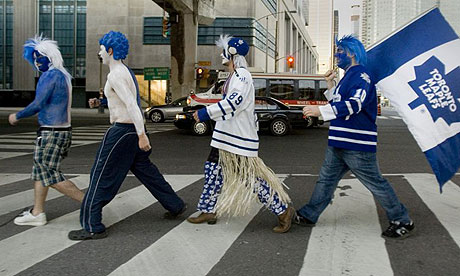 Wait, so the Senators are playing the Toronto Maple Leafs tonight?
Who would have known? I almost feel badly for the local mainstream media here who still try to play up the rivalry. Aside from the Leafs having some dick-headed fans, the rivalry has been dead for years. There's no longer a buzz when these teams meet, regardless of how much often your Maple Leaf work colleagues allude to their imaginary trophy case that holds up their four Ontario Cups. Besides, don't the Leafs playoff victories ring a little hollow when they're unable to handle an opponent like Philadelphia, a team that Ottawa's had success against? It's like championing how awesome Rock is over Scissors only to face Paper in the next round of the playoffs.
I consider myself to be a pretty avid hockey fan in Ottawa. So naturally, one would assume that I'm tormented by the fact that the Ottawa Senators have never beat the Toronto Maple Leafs in a playoff series. But I'll let you readers in on a little secret, I'm not. If it's any indication of how much I don't care, I actually had to Wikipedia the last time the Senators were beaten by the Leafs in the playoffs. And this is coming from a guy who was at SBP (then the Corel Centre) watching the game from the 300 level and booing every time Lalime's face was shown on the scoreboard. (At the time, I did think there was a silver lining to the game, Lalime was dealt and Jacques Martin was fired. See, I do have the ability to see the positive in everything.)
Apparently it's been 5 years since Nieuwendyk traumatized Patrick Lalime in that infamous game seven. I say apparently, because despite what some Leafs fans might think, it honestly feels like it's been longer than that.
Part of this can be attributed to the 2005 lockout that cost the NHL one season and took away the League's competitive imbalance. When the lockout ended and the League announced that it was to going to implement a salary cap, it also took away part of the Leafs mystique. At the time the cap was introduced, the Leafs were projected to have a $59M payroll for the 2004-2005 campaign. Comparatively speaking, Rod Bryden was losing money faster than Eddie Belfour's bribery account after a night of heavy drinking. With an equitable market system, there was no longer a reason to be jealous of the Leafs. They became just another team.
For an organization whose philosophy on player development was to let another organization do it for them, Toronto's struggled to adjust under the current system and have failed to make the postseason in the post-lockout era. But almost more importantly, with the organization spending millions less on payroll and fans still willing to eat up a mediocre product, MLSE realized that they had a license to print money. How else can Leafs fans explain the fact that MLSE allowed Mike Myers to bastardize the organization with the production of The Love Guru.
I have a serious queston though: Why hasn't Mike Myers been banned from the ACC?
Is it because the suits at the game would enjoy his celebrity presence if they weren't too busy enjoying drinks on the concourse? I almost feel sorry for the blue collar Leafs fans who yell expletives from home every time they see Myers' dopey grin on television.
Speaking of television, the mainstream media got what they wanted from having the Leafs and Senators play each other in four times. But it's ridiculous that the Battle of Ontario has been reduced to a Panthers versus Thrashers level, and they're still treating it like it's a prominent rivalry.
I could understand it for awhile, Ottawa was an easy market to target.
For years, the City of Ottawa and Senators fans have been stigmatized because of this obsession with the Leafs. We were insufferable because of the mounting expectations and playoff disappointments. Even when the team wasn't playing the Leafs, fans would chant "Leafs Suck" whenever the out of town scores were announced. To make matters worse, the new owner, The Euge, was (and still is) a Toronto media whore who helped perpetuate this perception. And it didn't help matters that he fired John Muckler over his inability to trade for THE Gary Roberts.
A weird thing has happened since the lockout. The combination of the Leafs inability to reach the playoffs and Ottawa's Cup Run in '07 has lead Sens fans to the realization that there are bigger fish to fry. It's also helped that Sportsnet televises the bulk of the Senators schedule and CBC has regionalized coverage of the Saturday night games. Oh, and Bob Cole and Harry Neale have fucked right off. Remember to raise your glass to that when watching the game tonight.
Looking back, I can understand why Leafs fans hated us. We were like the younger brother who always kept trying to measure up to the older sibling. After experiencing lengthy playoff runs and recognizing massive roster turnover, we've matured as a fan base and have moved on. It's no longer necessary to idolize a big brother who's content to make $7.50 an hour shooting bears in a dump, when we can pursue loftier goals.
And that's why it's sad to see some of the local Leafs fans about. Even though the Battle of Ontario is dead, Leafs fans are trying to fan the flames. Wearing a Leafs jersey to a Senators skills competition or a 2007 first round Sens versus Pens game isn't avant garde. Nor is it funny. It's sad and serves as a reminder of how far this rivalry has fallen.
Maybe I'm one of the few, but I'm really hoping Brian Burke and Bryan Murray can sort out their respective messes and both teams return to the playoffs picture in the near future. Hockey's more fun when both teams are competitive.