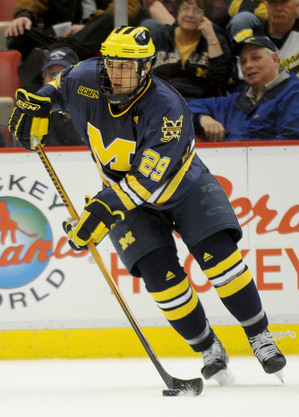 With the Senators in the midst of a stretch in which they have played poorly, the Ottawa Citizen's James Gordon comes on to discuss the past few games and what Ottawa has to do to get back on track. Also, making an appearance on this week's show is Louie Caporusso. Louie is in his senior year at the University of Michigan and he was also a Senators 3rd round draft pick in 2007 (90th overall) and a 2009 Hobey Baker Award Finalist. Thanks to both guys for coming on the Podcast this week.
As always, you can subscribe/download/stream the episode or entire catalogue of episodes from Itunes. Or you can download the file by right-clicking and saving this file. Or you can simply stream the episode below. We hope you enjoy it. If you have any questions or comments about the podcast, please leave us some feedback in the comment thread below. Thanks for listening, we hope you enjoy the show.
Tracklist for the podcast: Japandroids Art Czar; Born Ruffians Badonkadonkey; Roadside Graves Far and Wide; University of Michigan Marching Band Hail to the Victors; and Lynyrd Skynyrd Simple Man.